Further Information
The Heilshugar Millimál project is about creating a business around healthy and good choice for snack. -- English text below.
Það getur ekki verið auðveldara að fá hluta af fyrstu framleiðslu af millimáli, smelltu bara á Pledge to project hnappinn hér hægra megin á síðunni, veldu upphæð og þú getur greitt með korti í gegnum örugga greiðslugátt Borgunar eða með millifærslu. Allir sem taka þátt í að styrkja okkur og þennan litla draum okkar fá sent áritað þakkarkort frá okkur fjölskyldunni.
Fyrir rúmlega tveimur árum síðan ákváðum við hjónin að breyta um lífsstíl og huga betur að mataræðinu hjá okkur fjölskyldunni án þess að fara í stranga megrun. Við losuðum okkur við uþb. 60 kíló samtals og í kjölfarið ákváðum við að setja upp heimasíðuna www.heilshugar.com þar sem við deilum uppskriftum og fróðleik frá okkur fjölskyldunni.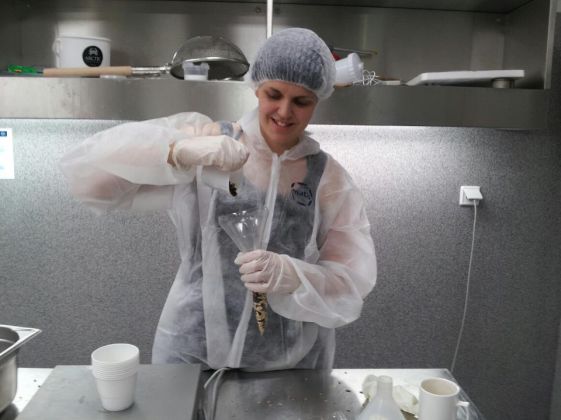 Við erum sjálf mikið á ferðinni og höfum sjaldan tíma til að undirbúa daginn og gera nesti svo að við höfum oft rekið okkur á að í búðarhillurnar vantar hollt og gott millimál. Þegar við urðum meðvitaðari um að lesa utan á umbúðir þá tókum við eftir því að ótrúlegustu vörur eru fullar af sykri og aukefnum sem eru oftar en ekki markaðssettar sem hollustuvörur og við eigum þann draum að koma á markað með vörur sem hægt er að treysta að séu hollar og næringaríkar.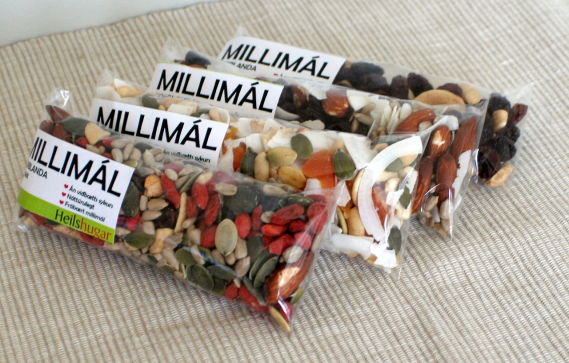 Heilshugar ætlar að framleiða þrjár tegundir af hnetublöndum sem við köllum Millimál. Hver tegund er ólík, en allar eiga þær það sameiginlegt að vera 50 g og um 220-240 hitaeiningar og því kjörið sem millimál fyrir flesta. Blönduna er æðislegt að eiga í skrifborðsskúffunni, hanskahólfinu, bakpokanum í fjallgöngunni eða bara hvar sem er.
Við erum mjög þakklát fyrir hvern þann sem styrkir verkefnið okkar. Þú ert frábær!
Innihald í Millimáli:
Enn er verið að þróa blöndurnar sem verða 3-4 í byrjun, en dæmi um innihaldsefni eru möndlur, kasjúhnetur, kókosflögur, rúsínur, gojiber, graskersfræ ofl.




Endilega hafðu áhrif á þróun blandnanna með því að taka þátt í könnun á facebook síðu okkar: www.facebook.com/heilshugar

--- English description ---
About two years ago, we decided to change our lifestyle. We started taking better care of our family's nutrition, but without going on a strict diet. After losing about 60 kilos in total, we opened the website www.heilshugar.com, where we share healthy recipes and tips.
As we are busy people we often lack the time to properly prepare our meals over the day, so we started looking for healthy snack options. But healthy snacks are not as easily available as one might assume. Furthermore, we saw that stores often incorrectly label snacks as being healthy.
Our mission is to make products that you can trust are both healthy and nutritious.
Heilshugar will produce three different types of nut mixes called Millimál. Each weighs 50 grams and contains around 220-240 calories, so it's ideal as a snack between meals, be it at home, work or while hiking.
We would be very grateful to each and everyone that supports our project.
The ingredients in the Millimál snacks.
We are still developing the mixtures. They will be 3-4 in the beginning. Examples of ingredients are; almonds, cashew nuts, coconut flakes, raisins, goji berries, pumpkin seeds and more.
Find us on Facebook at www.facebook.com/heilshugar